Lake Havasu Day 1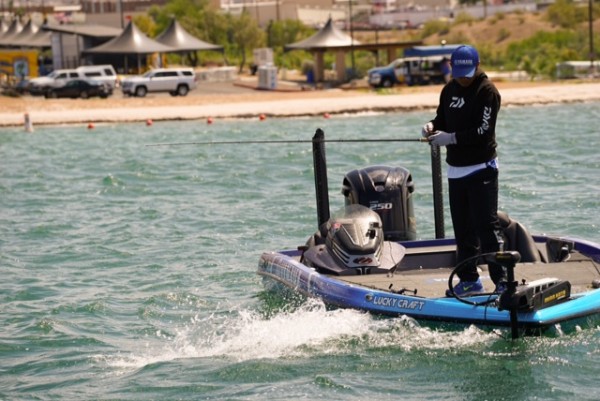 Day 1: Omori has a limit
Carp everywhere, but no bass
Though we've had more than a dozen anglers crowded around us in this small area near the launch, we haven't seen a single fish caught.
There have, however, been plenty of carp sightings. They're breaking water all over the place, and they are absolutely full-grown.
David Walker, Skeet Reese, Takahiro Omori, Justin Lucas and Cliff Pirch are just a few of the anglers who've tried this area.
Day 1 Weigh In:
Day 2: Takahiro with a 3-pound smallmouth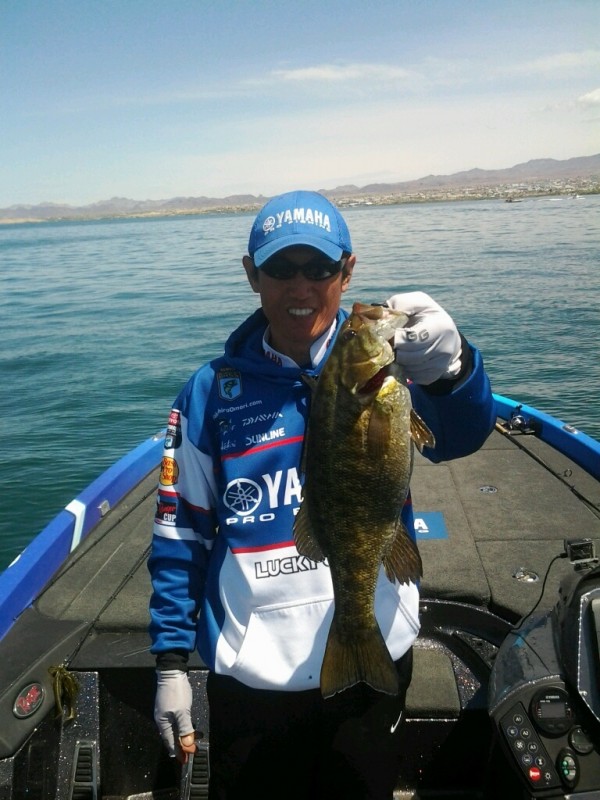 Omori with four in livewell
Omori lands a game-changer
Pirch back in the crowd
A short run for Pirch brought us back near the launch site. Many anglers are in this area including Takahiro Omori and John Murray. They all seem to be dialed in to these same groups of fish with varying degrees of success. As we watch, not much fish catching is happening.
Pirch decides to make a run again and now is even closer to the take-off area, where we watched several anglers fishing first thing this morning.
Day 2 Weigh In: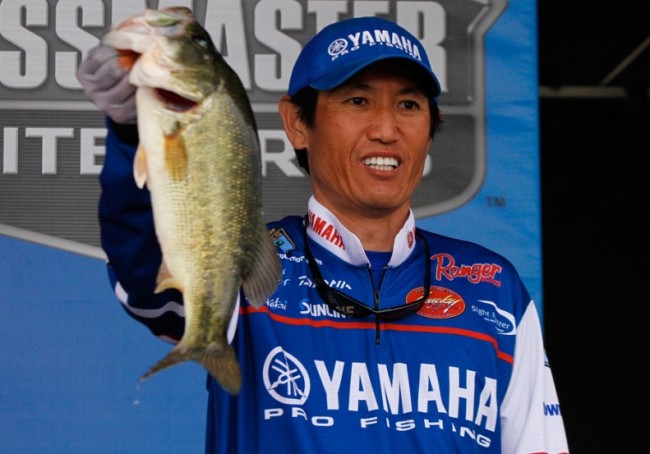 Havasu Day 3 kicks off
Omori is on a roll
It's moving day on the leaderboard
If you look at the top 10 anglers on BASSTrakk right now, you'll notice a bunch of new names. Clifford Pirch was leading at the end of Day 2 and he's still on top, and Day 1 leader Edwin Evers is close behind. But Takahiro Omori started the day in 16th place, Casey Ashley was 25th, Justin Lucas was 26th, James Niggemeyer was 30th and Chad Morgenthaler  was in 41st place. All are in the top 10 now.
And that's not the biggest move of all. Jonathon VanDam is threatening to make the Top 12 from being the last man in the two-day cut – 52nd place.
However, just like in the previous two days, the fish-catches are coming in furiously, so anything could happen in the final two hours today.
Day 4 begins
Takahiro up the river now
Takahiro Omori got tired of no bass and plenty of B.S. near the takeoff area and ran up the river, losing us in the process. But we're on him now, and just saw him catch his third fish of the day – a solid 3-pounder. That gives him about 8 1/2 pounds. Tak is flipping the tules with a heavy jig.
"This is better than drop-shotting," he said. "Drop shot sucks (today)."
Takahiro rolls out
Takahiro in a popular spot
Takahiro Omori, still with only one fish in the boat, has made another short move south. Here right in the middle of three other finalists – Gary Klein is within sight to the north, Jonathon VanDam is just south of Omori and Brandon Palaniuk is just south of VanDam. All are within sight of us. VanDam just missed what appeared to be a pretty good one.
Omori looking for his first bite
Real close at the finish line
Aaron Martens, Cliff Pirch, Takahiro Omori and Edwin Evers are all within about a pound of each other. This is going to be such a tight finish and a couple people are going to get their feelings upset. With Edwin Evers having probably more than he thinks (15 1/2 pound region) and Takahiro culling up about a pound just moments ago, all four are going to be neck and neck.
Omori culls up
Takahiro Omori has moved out of the jungle, back down the lake to the area near the weigh-in where he has fished all week. There were some big fish caught late here yesterday. Omori needs one of those to have a chance to contend, like a 5- or 6-pounder.
Takahiro Omori culled up maybe a pound just now with a smallmouth bass that fought harder than its size. It appears Tak is headed in.
Omori has 4 now
Omori continues to struggle – with bass, boats
Takahiro Omori has made a couple of short moves north, to the place where we found him earlier this morning and where he's caught most of his fish this week. But the bass are dodging Omori and he's dodging boats.
At his last stop, just north of the London Bridge canal, a cigarette boat went between us and Omori, but behind where he was fishing. Then a jet ski went in front of him, right where he was casting. He's been mostly throwing a swim jig this morning, but drop shotting some as well.
Pirch back on his hot spot
After a brief stop at a spot a little further downriver, Cliff Pirch has returned to the place where he caught four in a quick flurry a little while ago.
He returned to find Jonothan VanDam, Takahiro Omori, Brandon Palaniuk and several spectator boats fishing nearby.
Omori grinding away
On the water now with Takahiro Omori who is grinding away in the area near the ramp. This area has been a parking lot of boats the last few days. Tak has one keeper, but he's sticking with it. Clifford Pirch has fished here all week as well. But Pirch has bailed on this area and is now catching them.
Omori on the move again
We just saw Takahiro Omori go by for at least the third time this morning. I don't know if that means he's getting antsy or if he had planned on running and gunning coming into the day.
Omori moving up
Takahiro Omori started Championship Sunday in 2nd place and he just boated his first keeper of the morning. It was about a 2 to 2 1/2 pounder according to Tak. It moves him unofficially into fourth right now.
Pirch, Omori fishing nose to nose
Day 3 weigh-in
Omori working near the docks
Unofficial top 12
As of 10:45 MT on Lake Havasu, here is the break down of theTop 12 anglers according to BASSTrakk:
1st: Cliff Pirch
2nd: Aaron Martens — 2-8 behind
3rd: David Williams — 4-4 behind
4th: Edwin Evers — 5-8 behind
5th: Justin Lucas — 5-13 behind
6th: Casey Ashley — 6-5 behind
7th: Jonathon VanDam — 7-11 behind
8th: Dean Rojas — 9-9 behind
9th: Brandon Palaniuk — 11-1 behind
10th: Takahiro Omori — 11-2 behind
11th: Gary Klein — 12-2 behind
12th: John Murray — 16-8 behind
Omori on the move, dodging boats
Takakiro Omori is the latest angler to bail on the area near the takeoff that has produced so many fish this week. Omori didn't go far, but has moved further to the south than anyone has seen him in the last two days.
Not long after Omori shut it down, Shaye Baker, boat driver Steve Lund and I were in photo position, about 35 yards away, when a pleasure boat never came off plane in going between us. This isn't a big lake, but it's bigger than to do that crap. However, Omori seemed unfazed.
Tak just made another short move south.
Hauling in Havasu Bass
Day 4 Weigh-In